© YT Development
—
All by this author ›
Make
Favorite Author ›
Get it
Free
---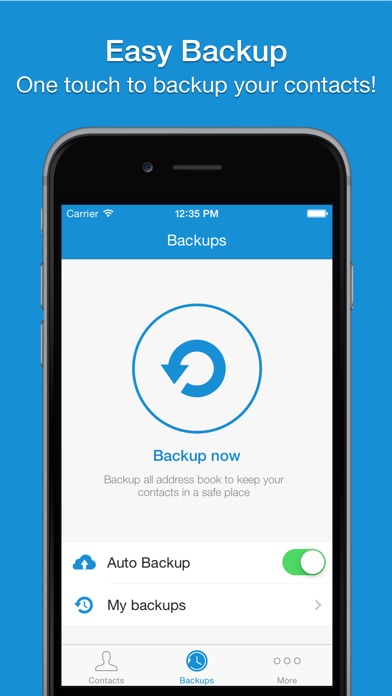 Easy backup pro is free today with AppGratis
* Over 1,500,000 people love Easy Backup Pro :)
* Backup your contacts with one tap! *
MAIN FEATURES
○ Backup your contacts with one tap!
○ Send the backup to your email!
○ Export your address book to Excel!
○ Restore contacts easily from any iOS device!
Your contacts are the most important data in your phone which may be lost in seconds.
Easy Backup Pro keeps your contacts in a safe place.
BACKUP
○ One tap to backup your contacts!
○ Quickly export your backups to Dropbox, Google Drive, Excel, Email
○ Keep your contacts safe in the cloud!
○ Easily restore your contacts from any mobile device!
○ Move contacts between accounts (Exchange, iCloud, Local Address Book)
CLEANUP
○ Find & Merge duplicate contacts!
○ Remove contacts without name
○ Remove contacts without phone & email
Easy Backup Pro offers unlimited backups for your address book
To keep your contacts even more protected, turn on Easy Backup Pro to save every single change in your contact list, even when you are not using the app.
Easy Backup Pro allows you to restore your contacts from any mobile device for $9.99 a year through an auto-renewing subscription.
Subscriptions will be charged to your credit card through your iTunes account.
Your subscription will automatically renew unless cancelled at least 24 hours before the end of the current period
You will not be able to cancel a subscription during the active period. You can manage your subscriptions in the Account Settings after purchase.
Terms of use: www.simplercontacts.com/termsofuse
Privacy policy: www.simplercontacts.com/privacy
AVAILABLE IN 15 DIFFERENT LANGUAGES
English, Español, Français, Italiano, Deutsch, Português (Br.), 中文 (Simplified), 中文 (Traditional), 日本語, 한국어, Nederlands, Русский, Türkçe, العربية, עברית