© 2016 MobilityWare
—
All by this author ›
Make
Favorite Author ›
Get it
$4.99
---
Best Chart Rankings*
#159 in
Kids Games
(
iPhone
) on Nov 11, 2016
#35 in
Kids Games
(
iPad
) on Mar 12, 2014
#1 in
Casino Games
(
iPhone
) on Oct 20, 2017
#1 in
Casino Games
(
iPad
) on Sep 25, 2017
#2 in
Card Games
(
iPhone
) on Oct 15, 2015
#1 in
Card Games
(
iPad
) on Nov 28, 2016
#71 in
Top Games
(
iPhone
) on Nov 11, 2016
#24 in
Top Games
(
iPad
) on Mar 12, 2014
#153 in
Top Apps
(
iPhone
) on Nov 11, 2016
#35 in
Top Apps
(
iPad
) on Mar 12, 2014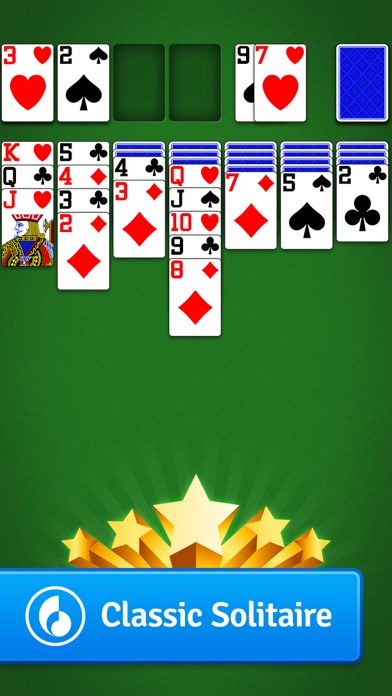 Solitaire by MobilityWare
is the ORIGINAL maker of Solitaire with Daily Challenges. We've made some incredible updates to our Solitaire to include fun new features! Don't forget, with this version you will enjoy Ad-Free game play! If you like Windows Solitaire, you're going to love this app. The familiar Windows Solitaire game you used to play on your computer is now available on the go!
We have NEW THEMES! Summer Sports, Summer, Fall, New Year's, Spring and Rainy Day!
Check out the new Solitaire iMessage Stickers for your text messages! To send a sticker, open your Messages app. Tap the Apps button (which looks like the App Store icon), then select our Solitaire icon to view and pick from the sticker pack.
We've always aimed to recreate the simple fun of the classic game of Solitaire. Each day you'll receive a unique Daily Challenge. Solve the Daily Challenge and receive a crown for that day. Earn trophies each month by winning more crowns! Your Daily Challenges, crowns, and current trophy status are available to view any time.
Play by yourself or challenge other players in real-time. Solitaire can deal the same hand to multiple players so they can compete against each other at the same time. You can have your choice of playing with your friends or testing your solitaire strategy against a completely random player. Just because it's Solitaire doesn't mean that the play has to be solitary!
Haven't won in a while? The Winning Deals feature creates a game that deals hands guaranteed to have at least one winning solution. Use "Show Me How To Win" to help walk you through the moves required to win the deal if you still need a hand.
Think you have the best Solitaire score around? With Apple's Game Center enabled, you can check the Game Center leaderboards to see how your Solitaire skills stack up against top players all around the world!
Solitaire is a universal app, playable in the best resolution available for each Apple device.
FEATURES:
-Ad Free
-NEW iMessage Stickers
-NEW Theme Packs
-Daily Challenges
-Multiplayer Solitaire
-Winning Deals
-Show Me How To Win
-Game Center leaderboards
-3D Touch in phone menu
-Draw 1 card
-Draw 3 cards
-Portrait
-Landscape
-Custom card backs
-Custom backgrounds
-Achievements
-Right or left handed play
-Game state saved when interrupted
-Unlimited undo
-Auto complete to finish game
-Standard scoring
-Vegas scoring
-Statistics
-Accessibility Settings
The addicting game you've been playing on your computer for years now goes wherever you do. Download Solitaire today!
For answers to frequently asked questions, head over to
http://www.mobilityware.com/support.php
LIKE US on Facebook
http://www.facebook.com/mobilitywaresolitaire
FOLLOW US on Twitter
@mobilityware
For the latest info and what we are up to, check out
http://www.MobilityWare.com/
Created and supported by MobilityWare